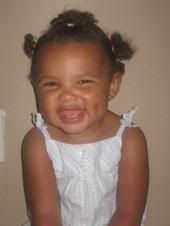 Yes people, it is true, I have heard the black eyed peas (boom boom pow and I got a feeling) a bazillion times in the last 2 months. Lisa and Cheryl can vouch for me. BUT who couldn't play it over and over and over when you have a little dancing machine shaking her booty to the music!? My daughter is soooo stinkin cute!!




These last two months have been a little busy in the Mwango household.

* I started school at Concordia and tonight is the last night of my first class. I am loving the program and feel like the time is going to fly by.

*Edwin applied for a higher position at work and after almost 2 months of waiting we finally heard back and he GOT THE JOB! HOORAY! I am so proud of his accomplishments at Aetna. He is a very hard worker and it it nice to see him get a promotion. (the raise is also going to pay our car payments so I am NOT complaining one bit!)

* We FINALLY found a church! We have been going to Westport community church for about 5 weeks now and decided this will be our home church. It feels really nice to get plugged in again. We have home group on Thursday nights and then they have a TON of community outreach programs to get involved in. One of the programs they are doing soon is for single parents. They are bringing in massage therapists and catering a dinner for over 100 single moms and dads. They are also providing daycare during that time so the parents can relax and enjoy their time. How cool is that! This church really has a heart for the community and I love that! (Malaika will not go to the nursery at the church yet..UGH!)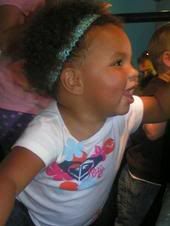 In between all of that our little sproutlet is growing and changing sooooo much.

* Just yesterday she actually spoke in a full sentence. She said, " Daddy says, go outside play!" All of her sentences lately have started with "Daddy says". I feel like I am in a continuous game of Simon says around here.

*I cannot even count the number of words she is saying but she talks from morning til night and also in between. In the middle of the night she is constantly taking about water or Dora or Mickey.

* She will eat almost anything. She LOVES turkey meatballs right now and noodles. She calls them "oodles". She also loves strawberries and apples.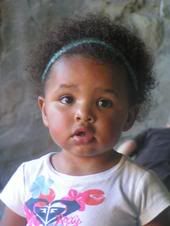 * We finally broke the bottle!!!!! YAYAYAYAYAYAY This has been an ongoing struggle for us. Basically because Edwin and I are weak human beings. Malaika has us wrapped around her little finger. haha! BUT we took charge and have been bottle free for 3 days now. I hold 12 step meetings on Tuesdays, at noon, if anyone wants to join. (we serve milk in a cup and cookies)

* I found a Dora quad on craigslist for 20 bucks and she has been LOVING that.

* I get together with my sister-in-law and a few other mom on Wednesday mornings at the park. It has been fun getting to know the other moms (we all try to bring a friends so the group can grow). It has also been fun watching Malaika develop. She is now able to go down the big slide all by herself!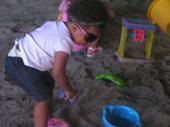 * We bought Malaika some "big girl panties" She is now wearing them during the day when we are home. She likes using her potty and has used the big potty once or twice.

* She loves to sing and can sing the entire twinkle twinkle song. Every time we go to Winco she draws a crowd of people and they clap for her. She can sing her ABC's and Jesus loves me.




* She can count to 20 in English and thank you to Dora she can count to 10 in Spanish all by herself.

* I have been teaching her colors and shapes and her favorite shape is a triangle. She is ALWAYS pointing them out to me when we are shopping. For colors... everything is green.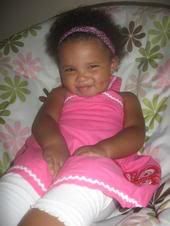 * I try to take her to the zoo every other week so she can see the animals. It is good exercise for me and it helps with nap time.

* She LOVES to sleep! She goes to bed around 9 or 9:30 and wakes up around 10 and then she typically takes a nap around 2.




She is amazing and adorable and... the list goes on and on. I have learned so much from being a mom and I am thankful God gave me this little angel!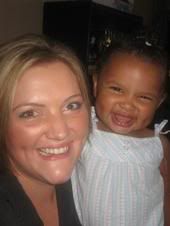 Our Africa trip is in 28 days!!!! Around this time next month I will be Baking I mean BASKING in the African sun!